(SANTA ANA, CA) – Brodard Restaurant Group is thrilled to announce the opening of their newest establishment, Brodard Express, at the John Wayne Airport in Orange County, California. This addition marks the latest culinary venture by the esteemed family-owned chain of Vietnamese restaurants renowned for their authentic Vietnamese cuisine.
Image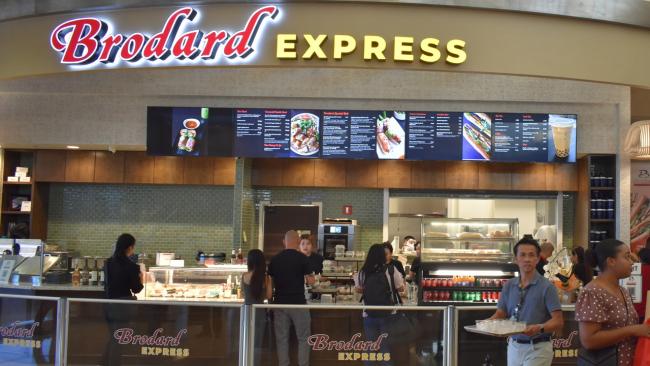 Brodard Express joins the ranks of its sister establishments, Brodard Chateau, Brodard, and Bamboo Bistro, each of which has garnered a loyal following for delivering the flavors of Vietnam to the heart of Orange County. The new Airport location is set to provide travelers with an exciting and convenient opportunity to savor fresh and authentic Vietnamese food while on the go.
"We are excited to introduce Brodard Express to the John Wayne Airport community," said Lisa Vo, owner spokesperson for Brodard Restaurant Group. "Our mission has always been to share the rich and authentic flavors of Vietnamese cuisine, and now, travelers passing through the Airport can embark on a culinary journey with us."
Brodard Express offers a diverse menu featuring Vietnamese classics, including delicious signature nem rolls, savory banh mi sandwiches, mouthwatering rice and noodle dishes made with the freshest ingredients, and an array of decadent macarons. The restaurant is designed to provide a convenient and comfortable environment for travelers seeking a taste of Vietnam during their journey.
"For travelers passing through John Wayne Airport, Brodard Express offers not just a meal but a passport to the authentic flavors of Vietnam. We're delighted to welcome this vibrant addition to our Airport, showcasing the diversity of culinary experiences reflective of Orange County," said Charlene Reynolds, Airport Director.
What sets Brodard Express apart is not just its delectable menu but also the inspiring ownership behind it. Brodard Express is proudly owned and operated by a group of dynamic minority women who bring their passion for Vietnamese cuisine to the forefront. Their commitment to excellence and dedication to preserving the traditions of Vietnamese culinary heritage are sure to make Brodard Express a standout choice for airport dining.
As part of the grand opening celebration, Brodard Express will offer special promotional gift bags to Airport visitors. This marks the beginning of an exciting chapter in the Brodard Restaurant Group's story as they extend their commitment to exceptional Vietnamese dining experiences to even more people.
Visitors and locals alike are invited to experience the vibrant and delicious world of Vietnamese cuisine at John Wayne Airport. For more information about Brodard Express, including its menu and operating hours, please visit  https://www.clover.com/online-ordering/brodard-express-santa-ana  
Brodard Express is located in Terminal B/C, in The Marketplace. For a complete list of dining options and additional information about John Wayne Airport, visit www.ocair.com.
For media inquiries or interview requests, please contact:
Brodard Restaurant Group
Jenny Lee
714-235-6753
Brodardexpress@gmail.com 
John Wayne Airport
AnnaSophia Servin
aservin@ocair.com
(949) 252-5182
About Brodard Restaurant Group
Brodard Restaurant Group is a family-owned chain of Vietnamese restaurants based in Orange County, California. With a legacy of delivering authentic Vietnamese cuisine for decades, the group is dedicated to providing exceptional dining experiences that capture the essence of Vietnam's rich culinary heritage.