(SANTA ANA, CA) – Traveling through John Wayne Airport just became a lot less "ruff" and a lot more "PAWS-itive." Thanks to the Orange County Board of Supervisors and Orange County Animal Allies (OC Animal Allies), your next trip to John Wayne Airport may include an encounter with a certified animal ambassador.
Image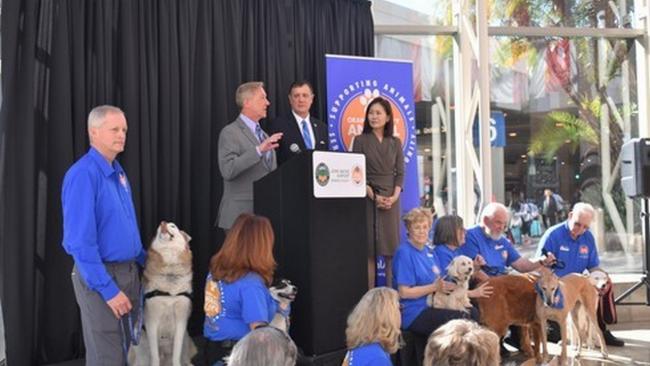 "We all get stressed while traveling. That is why The OC Board of Supervisors initiated the program with John Wayne Airport and OC Animal Allies to bring therapeutic dogs to the airport to cheer up passengers in an effort to reduce stress," said Chairwoman Michelle Steel. "I am delighted to see that we can have a program that can both be a benefit for passengers going through John Wayne and a project that won't be a burden on taxpayers."
"It is a great honor to implement the AirPAWS program, bringing joy and comfort to the travelers passing through John Wayne Airport. More importantly, we are giving new life to animals in need with the positive attention they certainly deserve," said Supervisor Don Wagner.
Research shows that therapy dogs can provide physical and mental health benefits. For example, interacting with a therapy dog can reduce anxiety, provide comfort, diminish pain, aid in relaxation, and lower blood pressure. Approximately 60 airports in the United States have a similar program. 
OC Animal Allies is comprised of human and dog ambassadors, dedicated to providing these benefits to the public while educating about responsible pet ownership, and advocating against animal cruelty. Formerly known as the OCSPCA, OC Animal Allies brings smiles to senior citizens at care facilities, with children affected by autism spectrum disorder, child victims of crimes at the Orange County District Attorney's Office, and much more. 
"After several decades of providing therapy dog services throughout Orange County, we are delighted to have the opportunity to extend this expertise to John Wayne Airport and the millions of travelers that pass through the airport annually," said OC Animal Allies Director Kevin Marlin.  "AirPAWS will make the often stressful process of traveling much more enjoyable and will create yet another opportunity for OC Animal Allies to uphold its mission of giving back to the community and strengthening the human-animal bond." 
"John Wayne Airport is known for providing a superior guest experience, and we are committed to making travel enjoyable and stress-free," said Barry Rondinella, Airport Director. "From nervous travelers to animal lovers, the AirPAWS therapy dogs are sure to put a smile on every guest's face."
With the decades of experience behind OC Animal Allies, and the support of the County, we know this program will take flight and continue to make traveling through John Wayne Airport even more "PAWS-ome!"
MEDIA INQUIRIES:
Susan Kang Group: Susan Kang
Susan@susankanggroup.com
(714) 299-0322
Sabrina J. Hong
Sabrina@susankanggroup.com
John Wayne Airport: Deanne Thompson
dthompson@ocair.com
(949) 292-3049