Image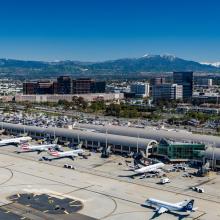 John Wayne Airport ranked #2 among large airports in North America, continuing its record of top-rankings since it was elevated to the large airport category in 2017. The Airport ranked #1 among large airports in 2017 and 2018, and placed second in 2019 and 2020.
"We are pleased that our efforts to continually elevate the guest experience are reflected in the customer satisfaction survey," said Airport Director Charlene Reynolds. "The positive recognition we have received from guests and travel industry experts is a testament to our attention to detail."
Overall satisfaction is based on terminal facilities, airport arrival/departure, baggage claim, security check, check-in/baggage check, and food, beverage, and retail. John Wayne Airport was compared among large airports with 10 to 32.9 million passengers per year.