John Wayne Airport (JWA) invites local artists to apply for solo-style exhibition slots in the JWA Community Focus Space (CFS) program with monthly exhibit openings, beginning Mid-March 2023. This is a unique opportunity to join a cadre of talented artists and exhibit artwork throughout the Airport.
Image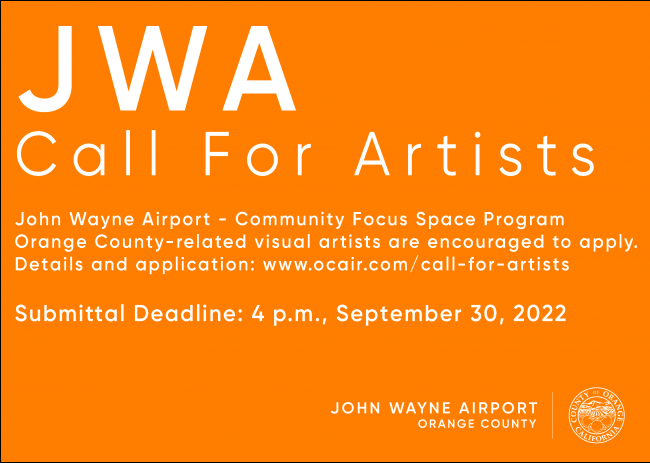 Each exhibition is approximately 30 days in duration and presented by JWA at no cost to the artist. CFS exhibition display cases are located on the Departure (upper) Level near security screening areas in Terminals A, B, C (pre-security) and the Arrival (lower) Level adjacent to Baggage Carousels 1 and 4 in the Thomas F. Riley Terminal and are accessible to all passengers and public.
Completed artist applications and images must be submitted to John Wayne Airport no later than 4 p.m. on Friday, September 30, 2022. To view the Artist Application Packet, program guidelines, and complete the fillable pdf, please visit https://www.ocair.com/call-for-artists.
For additional information about the Call for Artists or the Community Focus Space program, please contact Jeffrey Frisch, John Wayne Airport Arts Program Coordinator, at JFrisch@ocair.com.