(SANTA ANA, CA) – John Wayne Airport invites artists to apply for an exhibition of contemporary, 48" x 48" non-representational unframed paintings (museum depth stretcher bars only) for display in the Vi Smith Concourse Gallery from May 2022 through February 2023.
Image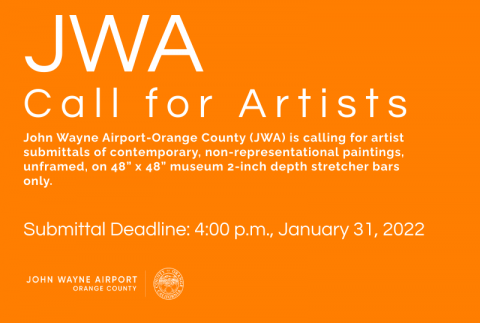 "With millions of guests who travel through John Wayne Airport each year, the Airport provides a venue unlike any other to feature the creative work of artists while showcasing their talents and providing a superior guest experience to all who visit the Thomas F. Riley Terminal," said Barry Rondinella, Airport Director.
Twenty-nine selected paintings by 29 different artists will be exhibited in secured, tempered glass display cases located on the Departure Level (post-security) across from Gates 2 through 5 in Terminal A and Gates 18 through 21 in Terminal C.
Artists from the following California Counties: Imperial, Kern, Los Angeles, Orange, Riverside, Santa Barbara, San Bernardino, San Diego, and Ventura, are eligible to apply. Applications must be received via email (JWAArts@ocair.com) no later than 4 p.m. on Monday, January 31, 2022. The no-fee application, submission guidelines, and additional information are available online at www.ocair.com/artsprogram.
Applicants will be e-notified by March 15, 2022. Each selected artist will receive a $50 post-exhibition honorarium. While JWA does not sell exhibited artwork, any sales resulting from the exhibition are 100 percent to the artist. All art will remain on display for the run of the exhibit.
The John Wayne Airport Arts Program features world-class art for business and leisure travelers. Click here to learn more. For more information about the Call for Contemporary Paintings, please contact Jeffrey Frisch, John Wayne Airport Arts Program Coordinator, at Jfrisch@ocair.com.