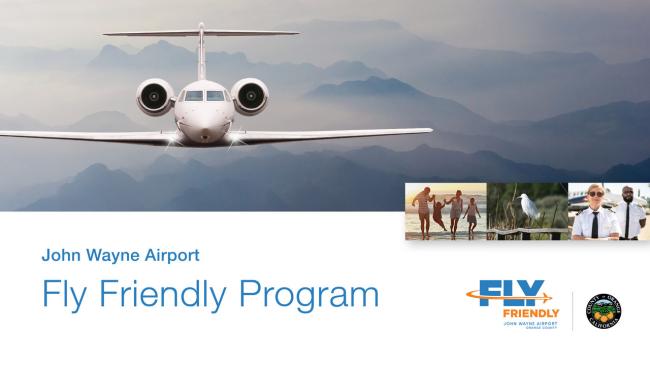 John Wayne Airport's (JWA) Fly Friendly program helps care for our surrounding communities by providing education to General Aviation (GA) jet operators and recognizing their voluntary efforts to safely reduce measurable noise levels and impacts on the environment through an annual awards process.
Fly Friendly seeks to:
Educate GA jet operators about ways to reduce their noise at and around the Airport, as measured by JWA's Noise Monitoring Stations
Encourage GA jet operators to voluntarily adopt more sustainable aviation practices and technologies that help contribute towards reducing pollution
Score these voluntary actions and reward participants with the top 3 highest scores in each tier through an annual recognition initiative
How Fly Friendly scores operators
Fly Friendly combines the following categories into a weighted score for each calendar year. While Quietest Departures and Nighttime Noise Reduction scoring are informed by data systems, Environmental Stewardship & Sustainability and Most Engaging are bonus categories unique to JWA's program.
The final score for each operator is determined by summing the weighed primary elements and then adding any additional bonus element points earned. To view the scoring report of the program's elements generated by the FF software, please see the link below.
Quietest Departures
Awards points to GA jet operators whose aircraft produce the least amount of measurable noise on departure over the full initiative year, as verified by the Airport's noise monitoring system data. Ways to achieve reduced noise include, but are not limited to:
Technical: Modify existing aircraft; acquire and utilize newer, quieter aircraft
Operational modifications such as choosing to fly in accordance with the quietest GA jet departure procedure for JWA: the National Business Aviation Association's (NBAA) Standard Noise Abatement Departure Procedure (NADP)
Nighttime Noise Reduction
Awards points to GA jet operators who are able to demonstrate the highest voluntary reduction in their number of non-emergency flights, when safely possible, during the following hours as compared to the previous calendar year:
Departures: 10 p.m. to 7 a.m. Monday through Saturday and 10 p.m. to 8 a.m. Sunday
Arrivals: 11 p.m. to 7 a.m. Monday through Saturday and 11 p.m. to 8 a.m. Sunday
Environmental Stewardship & Sustainability
Awards points to GA jet operators who contribute up to $4,500 per calendar year to support:
The farming of native plants for use in ecological restoration and habitat enhancement projects in canyon areas impacted by wildfires through the Irvine Ranch Conservancy; or
The planting of trees and the restoration of native wetland habitats in the Newport Bay Ecological Reserve and Nature Preserve through the Newport Bay Conservancy 
Keeping these beautiful, biologically-diverse ecosystems healthy helps provide Orange County residents with cleaner air, water and abundant recreational opportunities while offsetting aircraft impacts. 
Most Engaging
Awards points to GA jet operators who voluntarily implement outreach and education efforts themselves such as: providing noise abatement training to pilots; distributing Fly Friendly Toolkit materials; and/or attending up to five meetings per year of any Orange County community meeting focused on aviation impacts.
Additional Program Resources
For questions about the Fly Friendly program, please email FlyFriendly@ocair.com.