COVID-19 Rapid Testing
(Terminal B, Departure Level, Pre-Security)
Image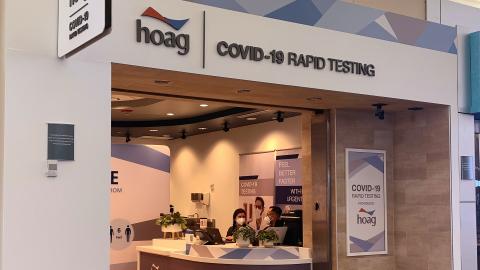 Testing is open to travelers and community members, with results available within 15-30 minutes. Some airlines and travel destinations require a PCR test from an approved partner. Be sure to verify that the Hoag COVID-19 Rapid Test qualifies. Testing is $139 and available M-F, 7 a.m. – 4 p.m.
At this time, the Hoag COVID-19 testing site at the Terminal is unable to accept walk-ins but remains open for reservations only. For questions, please call
(949) 557-0666
.
Make a Hoag COVID-19 rapid test reservation  
Fly Well Clinic
(Terminal B, Across from Gate 10, Post-Security)
Image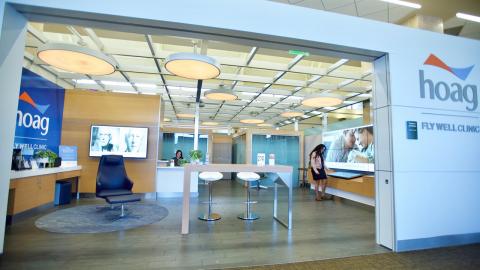 Airport guests can access on-site health care services by licensed professionals who can treat minor illnesses and injuries, schedule telehealth consultations, provide vital screenings and prescriptions, address cold/flu and travel sickness, and more. Complimentary flu vaccinations, nutrition and exercise tips for travelers, along with a Virtual Reality experience designed to relax and reduce stress, are also available. COVID-19 vaccinations are provided free to individuals age 16+, with no appointment needed.
The Fly Well Clinic is open M-F, 7 a.m. – 4 p.m.
For more information about COVID-19 Rapid Testing or the Fly Well Clinic, please call (949) 557-0666.