Image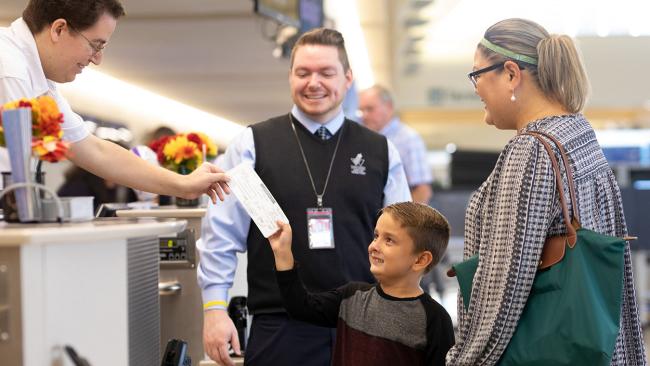 Wheelchair Assistance
Do you need wheelchair assistance? Contact your airline or rental car company if you need a wheelchair. For travelers with hidden and other disabilities, see our Helping Hands Program Information below for specialized assistance. Please note that Helping Hands is not intended for Porter services or luggage assistance.
Get airline wheelchair assistance  
Program Information
John Wayne Airport understands traveling through an airport can be a challenging experience for individuals with hidden disabilities like Autism. To ease some of the stress associated with airport travel, our Helping Hands team is here to help.
With Helping Hands, you will receive the following personalized travel assistance: 
Receive specialized assistance by Customer Relations staff who can guide you through the arrival, check-in, security and boarding processes. 
Receive an optional yellow bracelet which allows airport workers to subtly identify guests in need of an extra level of customer service and support. 
Provide information and support with the TSA Cares program.
Helping Hands assistance is provided at no charge and is available daily from 6:00 a.m. – 11:00 p.m. Please submit your request at least 72 hours in advance of your travel.
To submit a request
Please complete an online Helping Hands form or contact us at (949) 852-4000. 
Submitting this form is not a guarantee of provided services. All service requests must be agreed upon and confirmed via email by Airport Customer Relations staff. 
If you would like to schedule a tour before your travel day to become familiar with the Terminal, check-in and security process, please complete a Helping Hands Tour Request Form.
If you are unable to join us at John Wayne Airport for an in-person tour, we have a short video that highlights what to expect on your travel day. It takes one traveler through the Airport journey and helps him become accustomed to the crowds, sights, and sounds of the Airport. 
The "Helping Hands Journey" video can be viewed here.
TSA Cares Helpline
TSA Cares Helpline: Travelers with medical conditions and disabilities can call toll-free at 1-855-787-2227 prior to traveling to ask questions about screening policies, procedures and about what to expect at the security checkpoints. The helpline is staffed Monday through Friday from 5 a.m. until 8 p.m. PT, and 6 a.m. until 5 p.m. PT on weekends and holidays. Travelers who are deaf or hard of hearing can use a relay service to contact TSA Cares or can e-mail: TSA-ContactCenter@tsa.dhs.gov. Visit our Accessibility page to learn more about TSA passenger support at JWA.
If your assistance is specific to an airline, such as pre-boarding, please see our Airline carriers page for contact information.
Resources