Image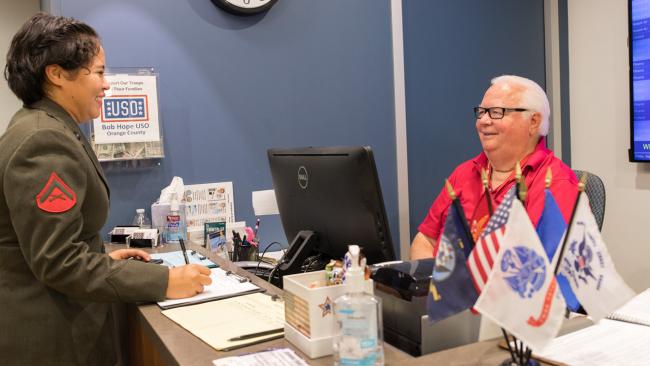 Bob Hope USO at John Wayne Airport
On November 10, 2014, the Bob Hope USO Orange County officially opened at John Wayne Airport (JWA). More than 20,000 military members traveling through JWA each year will benefit from the hallmark USO hospitality.
Located in Thomas F. Riley Terminal B, on the Arrival (lower) Level next to Baggage Carousel 4, the Bob Hope USO at John Wayne Airport features a stocked canteen, movies and video games, travel assistance and Wi-Fi at no cost to troops and eligible guests. Active and reserve members and their dependents are welcome, as well as military retirees on a space available basis. The USO Center is open Monday to Friday, from 8 a.m. to 5 p.m.
Under an agreement approved by the Board of Supervisors in April 2014, the County of Orange is leasing the approximately 630 square foot space to the Bob Hope USO under a five-year agreement for $1 per year.
Construction of the Bob Hope USO at John Wayne Airport was made possible by sponsors who provided project support, pro-bono services and supplies. The team was led by design/build firm Snyder Langston, project manager Butier Engineering, Inc., and included architects Ware Malcomb and A & H Communications, Anderson & Howard Electric, Artisan Coatings, CLP Resources, Control Air, Custom Building Products, Dal Tile, Don Brandel Plumbing, FA International Stone Company, Fusion Signs, Jayrae Inc., Johnson Controls, Kentec Medical, Landrum & Brown, McCandless Tile, McDowell Scheduling, New Century Door, Pocock Design Solutions, Rainbow Environmental Services, RG & D Design Group Inc., The Rouse Company, Siemens Industry, Inc., Sharpe Interior Systems, Inc., Shaw Carpets, Taber Company Inc., Ultra Electronics and XL Fire Protection. Computers and technology support for the Center were supported by a grant from a Southern California family foundation and, as a gift from John Wayne Airport employees, the Center received a microwave, coffee maker, board games, and a variety of other provisions.
About Bob Hope USO
Bob Hope USO operates airport centers at LAX, Ontario International Airport, Palm Springs International Airport and John Wayne Airport, as well as providing USO programming and outreach at military installations throughout Los Angeles, Orange, Riverside, San Bernardino and Ventura counties. Bob Hope USO relies entirely on contributions from patriotic Americans and philanthropic corporations and organizations. Each year, Bob Hope USO staff and 600+ volunteers provide direct service to more than 130,000 military members, their families and military retirees.
For more information about Bob Hope USO, visit bobhopeuso.org, facebook.com/bobhopeuso or on Twitter @BobHopeUSO.
| | | |
| --- | --- | --- |
| USO at JWA | | 949.252.0303 |
| USO Sponsor and Donor Opportunities | | 310.645.3710 |
| USO Media Inquiries | | 310.645.3710 |