Image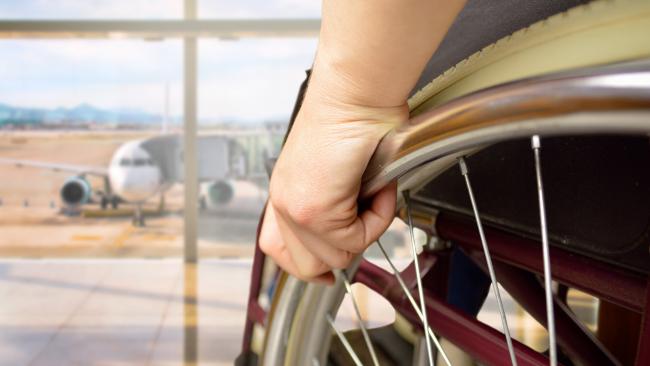 Accessible Services
Parking
Please note all Terminal parking is accessible from the Departure (upper) Level only.
Elevators
Elevators are located in in all parking structures, the Ground Transportation Center, next to the escalators near the Terminal exits and at Gate 1A (for commuter flights). All elevators are ADA accessible.
Ground Transportation
Shuttle and taxi companies offer wheelchair accessible vans. For faster service, it is recommended to make reservations before arriving at the Airport.
Public transportation information for travelers with disabilities is available by contacting OCTA ACCESS Services (ADA) at (877) OCTA-ADA. To use OCTA Access passengers must be certified by OCTA prior to use.
Helping Hands Personalized Travel Assistance
To ease some of the stress associated with airport travel, our John Wayne Airport Helping Hands team is here to assist you. Please visit the Helping Hands Personalized Travel Assistance page for more information. This service is provided at no charge and is available daily from 6 am – 11 pm.
Restrooms and Drinking Fountains
All restrooms are wheelchair accessible. Accessible drinking fountains and water refill stations are available near the restrooms in all Terminals.
Security Checkpoints: TSA Cares Helpline
Do you have questions about security procedures at the Airport? Travelers with medical conditions and disabilities can call the Transportation Security Administration (TSA) toll-free at (855) 787-2227 prior to traveling to ask questions about screening policies, procedures and about what to expect at the security checkpoints.
The TSA Cares line is staffed Monday through Friday from 5 a.m. until 8 p.m. PT, and 6 a.m. until 5 p.m. PT on weekends and holidays. Travelers who are deaf or hard of hearing can use a relay service to contact TSA Cares or can e-mail TSA-ContactCenter@tsa.dhs.gov.
TSA recommends that travelers call approximately 72 hours ahead of travel so that TSA Cares has the opportunity to coordinate checkpoint support with a TSA Customer Service Manager located at the airport when necessary. (View more information about TSA Cares)
Service Animals
JWA travelers accompanied by service animals can enjoy the convenience of an Animal Relief Area while at the Airport. Animal Relief Areas can be found on the Arrival (lower) Level outside of Terminal A near the entrance to Parking Structure A1, outside of Terminal C near the entrance to Parking Structure C and on the secure side of the Terminal near Gates 12 and 13. Owners are asked to clean up after their animals, using the waste disposal bags and receptacle provided.
Please be advised that - with the exception of service animals - uncaged animals are not allowed in the Terminal.
Telecommunication Devices (TDD/TTY)
Telecommunication Devices for the Deaf (TDD) and hearing-impaired are available on the Arrival (lower) and Departure (upper) Levels of the Terminal. A Customer Service representative can help you find an available unit.
Contact Customer Relations via TTY at (949) 955-9153.
Visual Paging
Visual paging monitors are available in all Terminals. Visual pages can be displayed on all flight information monitors upon request by calling Customer Relations at (949) 252-5200 or by dialing 0 at a White Courtesy Phone.
Wheelchairs
Wheelchair assistance is available from airlines at no charge. To request wheelchair assistance, contact your airline in advance or visit the airline's ticket counter. Those wishing to transport a battery-powered wheelchair aboard an aircraft should make arrangements with their airline in advance.
American with Disabilities Act (ADA)
Visit the Americans with Disabilities Act (ADA) webpage for information on how to submit accessibility concerns, reasonable accommodation requests, and complaints.
For additional assistance, you can also contact Airport Customer Relations at: